You provide iDEAL as a standard payment method with Kassa Compleet.
In addition, you can opt to accept payments using:
bank cards (MasterCard, Visa, Maestro*, V Pay*)
bank transfers
Cash On Delivery **
* Dutch debit cards cannot be used for online Maestro and V PAY payments. However, Belgian and German debit cards can be used most of the time. Hence these payment methods are of interest if you also wish to serve customers in these countries.
** Kassa Compleet also allows you to give your customers a Cash On Delivery option. You arrange these shipments and accompanying costs with your postal company. If your customer has opted to ship/make a payment as Cash On Delivery, then you will not be able to see this in the transactions overview in the Kassa Compleet portal.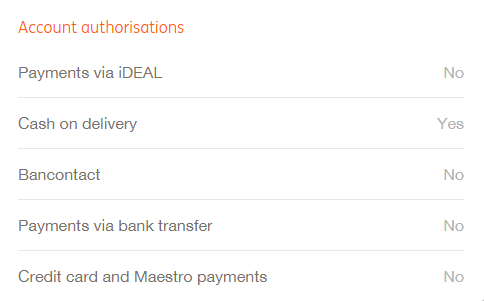 Only iDEAL and bank transfers are available in the test mode.